It was Christmas season and the prayer meeting in a friend's home was about to start.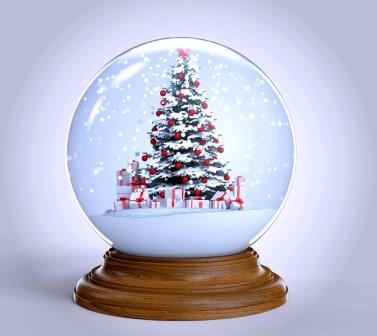 But I was distracted. A picture had popped up on my mental screen: an ornament, a small glass ball containing a snowy landscape. When the ball was shaken, the white stuff swirled up and created a magical scene of falling snow. But it didn't last long – which is exactly the way it was designed. For more magic it had to be shaken again and again. It turned out that the picture wasn't a distraction but a focus for the praying: the urge to live beyond the occasional shake; the welcoming of a God-given shaping that brings lasting changes to life's landscape.
Once again the Christmas ball is being shaken to stir up an image of seasonal magic and the flurry of celebration. This is a time when the heart of the Church should be reaching, more than ever, for a deeper experience of God-with-us. The Immanuel truth is the greatest miracle in history, one that completely redresses our living. Christ became man to redeem us; he rescued us so we can live with him. That starts now not in the future. The immense God, at home in our tiny lives…. Wow!! We live every second Coram Deo (before the face of God); his presence makes the ordinary day extraordinary. Life becomes a journey of learning to enjoy the Lord from close-up, and prayer is at the core. Prayer is a lifestyle response to his presence, while the awareness of his presence feeds prayer enjoyment. Presence and prayer are inseparable constants.
Jesus replied, "Anyone who loves me will obey my teaching. My Father will love them, and we will come to them and make our home with them" (John 14:23)
Before he left them, Jesus whet his disciples' appetites by telling them of the plan he was looking forward to, one that would cost his life. Then the risen Lord would, in Spirit, come live with his followers. That Immanuel miracle is happening now, a present-moment enjoyment, and the One who planned it wants us to participate in it… .more and more.
The Christmas shake will come and go, but encounters with the Immanuel truth leave us marked and changed. Whatever our level of experience of God-with-us, there is always much more. The journey we've been given is as endless as the size of God. And he will keep taking us beyond current boundaries, as long as we keep welcoming his (sometimes uncomfortable or painful) shaping in Love.