New Year is celebrated three times a year in our Asian host country. The nation parties with the rest of the world as the Gregorian calendar clicks into January, then comes Chinese New Year in Jan/Feb, followed by the traditional New Year in April. The nation's Buddhist temples swell with visitors making merit and 'praying' for a good year ahead. Many sit deferentially within the perimeter of sacred white thread, listening to chanting monks, in hope of a transfer of merit that will affect their future.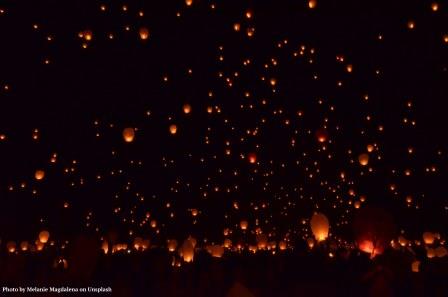 Desire for a good future is universal. New Year is a 'passage' time when many try to leave the old and reach for a better new. Some light a candle, release a sky lantern, whisper a hope, make a wish, or vow to change. Christ's followers, however, have a unique perspective on the new year. We celebrate his ownership of our future and the love-plans he has for every day of our journey; one in which he is both our great present enjoyment and our final destination.
Today is NOT 'just another day' in the year. A violent redemption seized it from waste and made it a sacred gift in the significant future he planned for us. There's a deep restfulness in knowing the Lord is sovereign over our future. But he doesn't treat us like drones whose every move is controlled by his finger. He unpacks his good plans for us as we keep desire for him alive; he wants us to want the future he has for us.
To the background noise of fireworks and howling dogs, Sandra and I crossed into 2019 praying from Mtt 26:6-25. Jesus was in Bethany when a woman poured expensive perfume on his head. The disciples were offended: Why this waste? They reasoned the perfume could have been sold and the cash given to the poor. Jesus saw it differently: She has done a beautiful thing for me. The disciples' argument made sense, but the woman hadn't come there to appear reasonable; she came to express passion. She wanted to honour him as best as she could. Some called it waste; Jesus called it beautiful.
There is so much about our future that is unknown, but we can be sure of this: the Lord's plans for us don't include waste; they are filled with works of beauty prepared for us (Ephesians 2:10). At times, these beauty works – acts that express our passion to honour him – might, to some, seem unreasonable, extravagant, radical and irresponsible, a waste of resources or of life itself. That's because the true significance of the works is often not obvious. The woman probably had no idea that she was actually anointing Jesus for burial, until he mentioned it.
The kindness of the Lord has carried us into a new year under his loving management and made it possible for us to enjoy the beauty-value of each day. So we exalt him as the rightful owner of our future and declare our longing for this to be a year of unwasted days, fully given to the beauty of honouring him.  
If this resonates, pray your desire over the year from the words of Jesus: She has done a beautiful thing to me
Make it personal; Insert your name, then tell him of your desire to be the do-er of things that show your passion for honouring him.

Offer him your days for unwasted living, where the heavenly/eternal shapes daily choices more than the earthly/temporal.