I was hurrying to a village church meeting when the motorcycle's chain-guard came loose and jammed in the rear wheel spokes. As the wheel locked, the bike weaved and slid along the loose gravel surface. Half an hour earlier I had left town with a young Thai believer and, strapped behind him, a whiteboard and guitar. I had dutifully put on my helmet, then removed it once clear of the town zone (way too hot!). It was decades ago, but I can still see my helmet dancing on the handlebar as the bike's rear swung around, skidded, then flung us onto the road. Injuries? Yes, a broken neck! Not mine or Surasak's, but the guitar's. It could have been a much more costly lesson about the difference between having a helmet and wearing one.
Writing to the Thessalonians, Paul mentions the coming day of the Lord. He uses the images of night and day, darkness and light: we are no longer in darkness, but are in, of and belong to light. And one thing that marks people of light is an anticipation of the coming Day. That climax – when all of history peaks in the return of the unveiled Christ, and the end launches a glorious beginning – is not just a HOPE-fixture in our theological belief system. It's a future reality that powerfully impacts present living. In fact, the salvation HOPE (the absolute certainty of Christ's return and of his eternal new order) is referred to as a helmet to be worn 1 Th 5:8.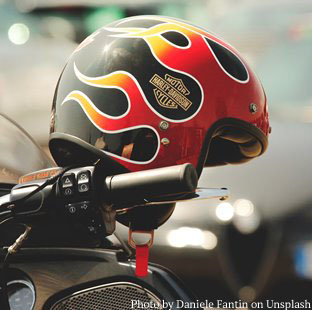 There is a protective grace in HOPE. The mind set on Christ's return is alert and selective. It values time and activities through a lens focused on the eternal. The fading thrills and accolades of earth lose their magnetism. HOPE filters, prioritizes and makes choices with a view to honouring the returning Lord above anything and anyone. It arms us with a pilgrim's mindset; being in, but not of the world John 17:16, 18. Hearts and ambition are anchored into the One who outlasts and outshines all things. We don't live in a bubble; we engage with the world, but do it as 'sent ones', representing Jesus in a rescue mission that will last only as long as he delays his coming. HOPE carries a sound of celebration, the bridal anticipation of seeing Christ. But, also an urgency; a resolve to not be distracted (living as if other things are more important), to not waver (living as if the Day might never come), and to not lose the imperative of being witnesses of Christ's glory.
However, that protective grace involves us wearing the helmet, not just having it. Hanging our HOPE doctrine on our faith-handlebar does little more than tick a 'got it' box. The best way to keep the helmet on, influencing the way we think (and therefore the way we live) – is to PRAY HOPE.
For example:  Titus 2:13 while we wait for the blessed hope—the appearing of the glory of our great God and Savior, Jesus Christ. This is a great anchor verse for prayers of admiration: thanks (for being a possessor of HOPE), praise (for the greatness & Saviour-beauty of the coming Christ), celebration (of his certain return), and desire/hunger (for his appearing). And then, prayers of consecration (to being a wearer of the HOPE helmet; allowing its truth to impact thoughts and lifestyle).
Praying about HOPE is good, but the aim is to pray with HOPE. Wearing the helmet adds a dimension to prayer motivation, re-arranges priorities, and fuels prophetic celebration – we pray as people who see the triumph of Christ in the end, and in each day's lead-up to it. Amen. Come, Lord Jesus Rev 22:20.
Prayer growth resource: Shaped for Prayer Enjoyment