People are talking about prayer life more than before. Many pray, but admit they don't really enjoy it. They believe it's good, powerful and necessary, but it's not a favourite enjoyment. Duty and routine are there, but aren't enough to make prayer life soar. Fortunately, the Spirit is great at re-energizing the tired prayer life (and making the good one even better!).
Prayer experience won't rise beyond our heart's enjoyment of the Lord. So how does lift-off happen? How does enjoyable prayer become a way of life? What's the connection between God's constant presence and prayer adventure? What does it mean to pray with a raised heart? Pray-ers who are full, yet always hungry – how do we grow that appetite for the Lord? In what ways can we use Scripture to shape our praying? How can we reach deeper into the power and enjoyment of corporate prayer? These are some of the areas covered in Shaped for Prayer Enjoyment.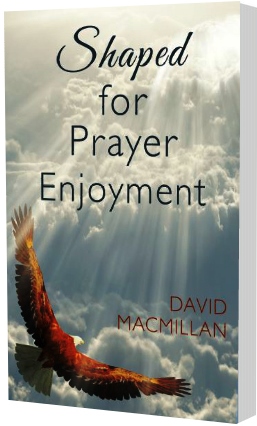 When Jesus' early disciples said: "Teach us to pray", they weren't asking him for a starter course in prayer basics. They already had a prayer life, but they wanted to move beyond their own experience into more of his. Prayer growth is the most satisfying, life-changing adventure in the discipleship journey. Christ will never tire of coaching us, as long as our hearts keep reaching for more. Have a look at Shaped for Prayer Enjoyment – it's a message and resource to help you reach further. A reader recently wrote: "I found my relationship with Father God lifted to new levels I had previously thought unattainable and which now I cannot bear to live without. I want more of what God wants for me – the real enjoyment of prayer."
To see what others are saying about the book and where you can get your copy, click here Shaped for Prayer Enjoyment
Christ's disciples weren't prayer novices, but the upper room experience gave them a prayer life make-over. It moved them into a new prayer frame. The men with a tendency to fall asleep in Jesus' prayer sessions found themselves in a prayer adventure that included the...
read more