The Lord points us to two 'feeders' for pray continually living: always thankful and always joyful (1 Thes 5:16-18). The second has its source in the Lord's own joy. That includes his joy about us. God is singing over us, and draws us into the celebration!
In my previous post I wrote: Being IN him means we get to rejoice WITH him. Without this, even our happiest times have a joy deficit; always needing something or someone to entertain us, or indulge our need for another 'happy fix'. Real joy has one root only – the joyfulness of God himself. Our joy is the fruit of that root – his joy expressed in us by his Spirit (Gal 5:22).
God is singing over us (always), and we get to join his constant celebration around two enormous themes. He celebrates (1) Who he is and (2) What he does. I touched on the first in the last post (Always joyful – God celebrates himself). Now, the second great joy theme.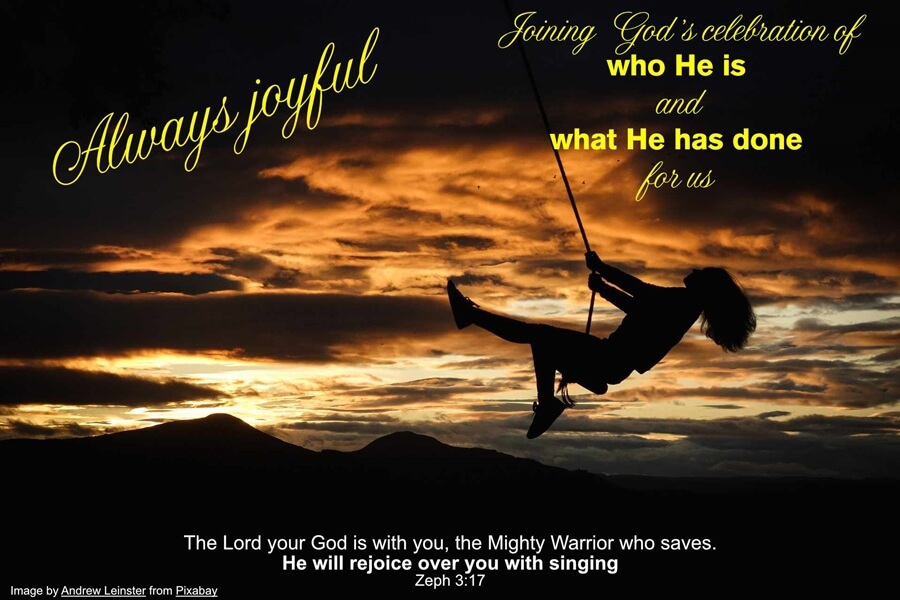 God celebrates what he does
The Lord enjoys his work. He rejoices over everything he has done for us, and all he is doing in us. Always joyful means that not only do we share in his celebration of who he is, but also in his joy over his works (which adds to our joy in who he is).
His greatest 'celebration of works' is about the amazing recreation of his image-bearers through Christ. And his rejoicing over us is as constant as his presence with us!
The Lord your God is with you, the Mighty Warrior who saves. He will take great delight in you; in his love he will no longer rebuke you, but will rejoice over you with singing (Zephaniah 3:17).
Rewind to the Judah of Zephaniah's day. God calls them to anticipate his promised restoration from exile, and to sing, shout aloud and be glad and rejoice with all your heart (3:14).
He gives them reasons to celebrate, listing some of the things he will do for them: end their punishment, deal with enemy oppressors, rescue, restore and be present with them as a Mighty Warrior for them. He will love and delight in them, cause nations to honour them. And he will sing with joy over them (15-20).
What does that look or sound like? It's impossible to imagine the power and depth of feeling in God's song of joy. The image of rejoice over you here isn't of a smiling singer, softly crooning his love-song. It's of a singer leaping, shouting with gladness and spinning with joy as he sings exuberantly over the one he loves, and rejoices in the works that will show his love.
Now, multiply that image of energetic, wholehearted gladness. Multiply it again and again, until the level of joyfulness is too big to imagine, too big for words. And still, we are nowhere close to seeing the size of God's celebration when he tells us he is rejoicing over us with singing!
So, when he says be glad and rejoice (lit. jump for joy) with all your heart, he is inviting us to join him in his celebration; to rejoice with him over his works for us.
The Lord's celebration of works over his Bride has multiple levels. He is rejoicing over what he has done, is doing and will do for us. His song over us is constant, and has made room for us to join in (always).
Focus on one 'beauty' of the Lord: his glory in being SAVIOUR-GOD. Think of one work that God your Saviour…
did for you in the distant past, before your birth (be specific).
did in your recent past, or is doing in the present to free, rescue, protect, heal or restore you to wholeness.
has promised to do for you in the future (including Final Day things)
Meditate on the Saviour's joy over each of those works done for you. Spread it over a few days. Draw in scriptures that relate to each work (or similar works) of the Lord, then join him in his celebration of those works. Refer to the previous post for suggested ways to express the leaping heart.