When bad people prosper, don't envy them; their time in the sun will end. That's the opening line of one of David's song. OK, that gives perspective, but is there some help on dealing with the 'bad things' that happen to God's good people? There is. As Psalm 37 plays on a bit further we see God's how-to for being STILL in a world of unrest.
The singer tells us: Be still before the Lord and wait patiently for him (7). But the Lord doesn't simply drop the command on us. He leads us into it. Here's how he does it:

The song calls us to three 'reaches' in the Lord. Each is an extension of the one before it.
Reach into TRUST   Trust in the Lord and do good (3)

Believing what the Lord says about himself (his Glory – who is his and what he is like) frees us to trust him. We can't always make sense of our circumstances, or have tidy answers to life's difficulties, but trust in the Lord's nature gives us restful confidence that we're in the safest place, no matter what.
But TRUST isn't the end destination. It's a grace-platform for reaching further in the Lord.
Reach into DELIGHT   Take delight in the Lord (4)
The Lord's Spirit energizes his trusting ones to enjoy him. Rejoicing in the Lord is not done apart from him; it's done with him.  He draws us into his own delight in his Glory and (in trust, whether life is calm or chaotic) we say yes to being drawn into that celebration.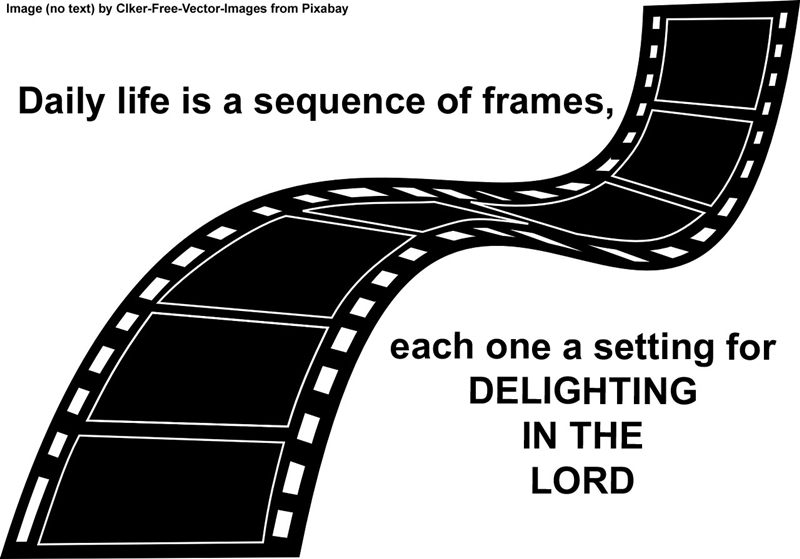 All of life is a setting for delighting in the Lord. The activity of the moment or the circumstance is a passing frame in which we get to enjoy him. The actual activity, or circumstance is secondary. Otherwise we become subject to the task or situation, and can easily find ourselves on an off-ramp into unrest. Life's happenings are not designed to monopolize us, but to serve our enjoyment of him.
Daily life is a sequence of frames, some pleasant and others not. The main point of each frame is our awareness of the Lord's presence in it, and our response to him. The response might be quick or extended, a word or a gesture, a praise, thanks, adoration, wonder, declaration or desire but, whatever the type or expression, the aim is to delight in the Lord.
So, TRUST extends our reach into DELIGHT, and this becomes a grace-platform to reach even further in him.
Reach into COMMIT   Commit your way to the Lord (5)
The "way" is our life-path, our journey with its desires, plans, decisions, relationships and happenings – pleasant or unpleasant. The Lord calls us to 'roll it out' before him – the entire path, the parts in view as well as the hidden, unexpected bends. So the journey is relinquished to him. He is Owner and Manager of our "way", and we move along it as led ones. This reach into COMMIT is not out of duty but in TRUST and DELIGHT.
By reaching further, we have been led into the beauty of his command: Be still before the Lord…
Being still in the Lord isn't just about coping in a world of unrest; it's about cultivating a lifestyle in sync with Jesus. We are more tuned to his voice, life and purpose when at rest in him.
Ponder Psalm 37:1-7, then pray through those three spiritual reaches. Revisit them over the next few days, allowing the Spirit of grace to deepen your reach into stillness. Reaching deeper in rest is not reserved for times of 'bad things'. Practicing the three-fold reach in calm times makes stillness easier when storms hit.

Spiritual rest is a platform of authority for praying into chaos. From stillness – at rest in the Lord, listening to him – pray into one situation of obvious unrest in the world (for example, Iran, Yemen, South Sudan, Libya, the US-Mexico border….).