A shuffling sound woke me. Sandra and our three small children were asleep; the only noise was the whirr of the ceiling fan…and the shuffling sound. I jumped up, looked through the window onto the gated driveway below and saw three figures moving around our vehicle. The truck doors were open and the visitors were disconnecting the speakers to add to a box of things balanced on the perimeter wall. Going downstairs to confront them seemed a bad idea, so I shouted through the mosquito screening: "Stop, or I'll shoot!"
Nope, no idea where that came from. A simple, "Hey!" might have worked. I had no firearm, but fortunately they didn't know that. They cleared the 2m high wall as if on wings.
Empty words, a fake message with zero chance of it happening. I had pretended, and it worked.
The same is not true of prayer. Our relationship with Christ loads our praying with the authority of his name and full backing of his eternal power. Pretense is detectable by the Enemy (as the sons of Sceva discovered, Acts 19), and Christ has freed us from ever having to use it.
Being seated with Christ means we have constant, close-up Throne access, and our words carry the weight of the Name that we pray in. So our prayer is never 'just words', and is never stuck in a celestial 'your call is important to us' queue for eventual attention.
Praying is not a ritual of pretense with a veneer of hope that maybe it will catch God's ear. Our Throne-side seat gives us something not found in any religion's prayer rites: PRAYER CONFIDENCE.
Prayer confidence isn't an optional add-on; it's as core as belief in Jesus and the gift of unending life (see 1 John 5:13-15). John shows us three parts to prayer confidence: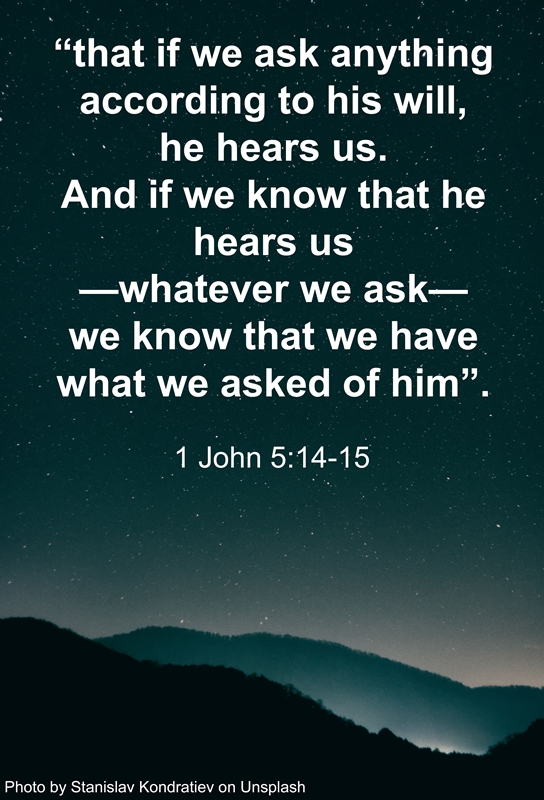 The HARMONY –

if we ask according to God's will

. The certainty that our asking point is in line with God's desire.
The TRUST –

we know that he hears us

. The assurance that our asking is immediately received and recognized by the Father – in every detail, together with included lament, tears, groans or laughter – because our Mediator, Jesus, takes care of that perfectly.
The CELEBRATION –

that we have what we asked of him

. The above two lead us to the prayer confidence climax. If we know that our asking is in line with the Lord's desire, and (because we trust our Mediator) we know that we've been heard, then we honour him by sharing in his joy over his planned outcome.
But what if we don't yet see an answer? The delay of an answer (mystery and disappointment for us, but always overseen by God's tender love and wisdom) won't shake prayer confidence – that is, as long as we don't set our confidence dial by our record of prayer 'successes', but by what we know about the nature and desires of the Lord.
There's a deep restfulness in knowing the Father has heard and responded, even when the answer has not yet been unpacked for us.
Prayer confidence doesn't mean we no longer have to revisit the asking point. It's good to return to each of the three parts: the HARMONY (reviewing the asking point and deepening our connection with the Father's desire concerning it), the TRUST (declaring reliance on and admiration of the Mediator and High Priest of our prayers), and CELEBRATION (freeing the heart to dance in the Father's delight over his answer and its outworking).
We all experience delayed answers to some prayers, but prayer confidence means we can hold onto those asking points without being held back by them. From our Throne-side seat we move on to a fresh prayer challenge, a new strategic breakthrough without being crushed by the unresolved ones.
Pick up a particularly challenging asking point, a new one or a point that has left you feeling deflated because of a delayed answer. Revisit the three prayer confidence parts. Do that regularly until, in your CELEBRATION, you experience a resting of that asking point, a lifting of the urge to keep praying into it. There's a peaceful assurance that the answer (and its outworking) is being taken care of. From then onward, let every thought of that need become a trigger for added celebration with the Lord.