A man is planning to sue his parents for giving birth to him without his consent. Yes, really! He believes birth has zero value and "human existence is totally pointless".* The report took me back to an encounter with the Lord during a not-so-ordinary coffee date.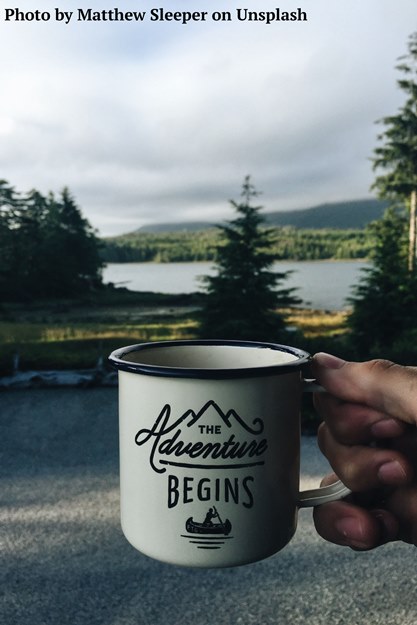 On birthdays, Sandra and I usually look for a quiet coffee shop. We talk, pray, and add a slice of cake to sweeten the thought of aging.
One birthday morning (mine), I was reading Jeremiah 18, the Potter's House chapter. Great, a perfect birthday passage! I looked forward to praying it at our coffee get-away; offering myself as clay in the Potter's fingers, shaped as seemed best to him. But the Lord had something else in mind; I was to keep reading.
He gave a 'this is it' nudge as I hit chapter 20. Surely not! This is where the prophet curses the day he was born! Not a great birthday celebration passage. I liked 18 more, but…..
We found a quiet table at Love At First Bite, ordered coffee and talked about Jer's meltdown. Not a happy prophet. His message drew persecution and insults, but becoming a silent prophet wasn't on God's option list. He was ridiculed, abused, opposed by religious leaders, rejected by friends and felt let down by God. So he vents; he curses the day he was born and asks: Why did I come out of the womb?
Actually, he already had the answer to that. In a life-value announcement (in chapter one), God told the prophet that he knew him and had planned his role in history…. since before birth. Then, at the right time, he was born into that purposeful story. Jer knew that, but he couldn't see how his circumstances fitted with that announcement. Because he couldn't make sense of his story, he stamped 'zero value' over his entire life and concluded that his birth was a mistake.
Jer didn't stay down. By chapter 23 he was back again, prophesying hope: the Branch was coming! However, his meltdown shows us that the unpleasant puzzles of life can divert us from seeing the value God has put on it. It's important to keep hearing his life-value announcement about us.
We prayed Jer 1:5. Over cold coffee cups, we revisited my first day. We recalled the enormous love, wisdom and thought that went into shaping the life-story I was born into. We celebrated the value he placed on my day #1, and his delight in giving it to me.
Then we stepped from that day to the present birthday, but with a fresh awareness:  the exact same depth of love and intention that gave me my first day is filling this one! The value of the day is an extension of his delight and purpose in giving me day #1.
The puzzling bits and stormy pages of our stories are unpleasant, but they cannot remove the life-value announcement the Maker-Redeemer has made over our days. We were wonderfully made – carefully, purposefully thought out – and we honour the gift by leaning into him…..to live as a loud answer to the question: 'What's the point? HE is the point of our day #1, and of every day following.
It's possible to drift from the point unless we keep celebrating it. The Lord's value announcement about us (in Christ) extends beyond his word to Jeremiah. But we can use that word to shape prayers of celebration (the inner dance for the value placed on our days), prayers of trust (resting in his excellent plans for us), and prayers of desire to grow in the purpose for which we were given day #1.
Before I formed you in the womb I knew you, before you were born I set you apart; I appointed you as a prophet to the nations Jer 1:5

*https://www.bbc.com/news/world-asia-india-47154287