Elephants can't jump, but it would surprise us if frogs, fleas and antelopes didn't. It's about design. God designed man with an 'inner leap' ability that finds new height in Christ. The celebration leap is part of new creation life, and the Lord never leaves us without reasons to leap for joy.
It usually starts with a praise step. And then comes the heart's celebration leap.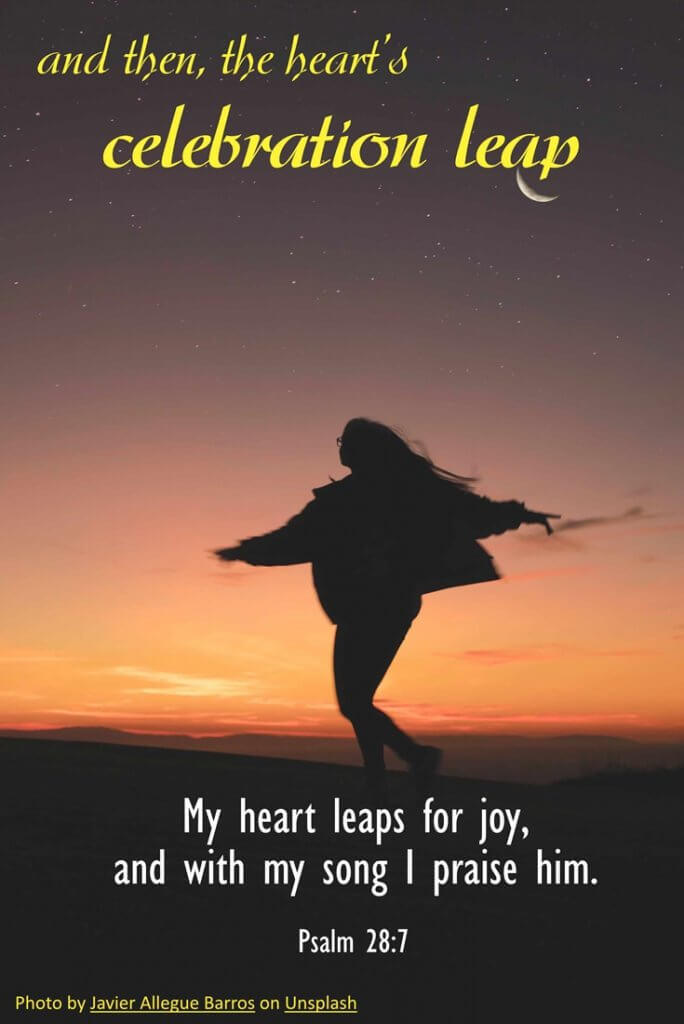 The Lord is my strength and my shield; my heart trusts in him, and he helps me.
My heart leaps for joy, and with my song I praise him. Psalm 28:7.
David's song begins with lament, then a cry for God's help and a step into praise. He exalts the Lord as the strong One who gives strength to his people. And then his heart leaps. He celebrates being safe in the Lord's strength (6 – 8).
Both praise and celebration draw our emotions into admiration of the Lord, but they are different. In praise, we exalt the Lord (who he is, what he is like). In celebration, we take part in the Lord's joy over the way he blesses us.
The celebration leap starts in the heart but doesn't stay there. It overflows into expression – a song, a festal shout, music, dance, flags or prayers of rejoicing. The celebration is too precious to be just an outward display. It must express the leaping heart.
Peter gives us a wonderful example of praise as a springboard to the celebration leap. In 1 Peter 1:3-6 the apostle fixes his admiration on two truths about the Father: he praises the Father's great MERCY and his POWER. He unpacks each, praising the Father for what he has done in his mercy (3-4), and what his power continues to do for us (5). But he wants readers to not only join him in praise. He wants us to make the celebration leap!
In all of this you GREATLY REJOICE (6) [lit. leap for joy]. In all of what? In the praise truths he had just unpacked. He draws our hearts into praise and then into the joyful leap at what the Father's mercy and power mean for us.
Praise is just one pathway for the heart to leap with joy. Each admiration prayer type (wonder, praise, thanks, adoration and hunger for God) can lead into the celebration leap. Whatever truth we admire about the Lord, we can add Peter's words: in all of this we greatly rejoice!
Re-read verses 3-4. Make a note of Peter's three reasons to praise the Father's

great mercy

.

Let them steer your praise, and then make the celebration leap

in all of this

.

Join the Father in his joy, express your gladness at what his mercy means to you.

Do the same with Peter's two reasons to praise the Father's

power

(5). Again, from praise, make the celebration leap

in all of this

.

As you read other scripture passages that lead to exalting the Lord, let praise be your platform for the celebration leap.