The mind is a busy work site. Construction either follows the world's pattern, or the Spirit's 'likeness of Christ' blueprint. Our grasp of mercy influences our choice. Awareness of how kind the Lord has been to us inspires us to stick with his blueprint for all that's ahead.
Conformity to the world seems easier, but the pattern is flawed and loss is inevitable. Rather, in view of God's mercy, we choose a life of constant transformation (Rom 12:1-2). That means lasting change in the very core of our thinking (renewed in the spirit of your mind Eph 4:23). In line with the blueprint, the Spirit of Christ frees us from the construct of our 'old' mind and trains us to think in agreement with him.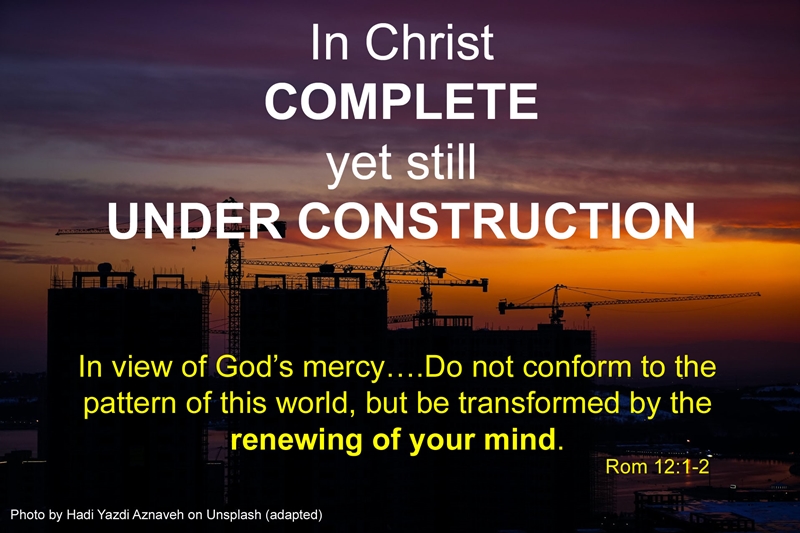 A large part of our 'likeness of Christ' reshaping is to think BLESSING.
Not a 'give me', blessing-consumer mindset, but thoughts of sharing; being conduits of Christ's goodness. He has a benevolent nature: loving, kind, compassionate and merciful. He enjoys blessing generously and has made it possible for us to be his channels. So he renews us to think BLESSING.
It was a promise to Abraham, with a long reach into the future, to be unpacked fully in Christ (Gen 12:3, Gal 3:16). Through him, every kind and loving thought of God has become a grace to be shared with men now, and enjoyed forever (Eph 1:3). This isn't a small tributary of God's big plan; it's the main river, and is always in flood! The Kingdom blueprint is a culture of generous blessing. We are part of a reconstruction wonder in which the Spirit is shaping us to think BLESSING…more and more.
We don't have to look hard for opportunities to bless in some way, as long as our minds are alert to them. Yesterday's intention to bless doesn't make it inevitable today. We move forward in it because we put our mind into gear (1Pe 1:13 MSG).
The tongue can be a powerful agent of Christ's blessing. We've been entrusted with an amazing priestly licence to echo his desire to bless; to declare, invoke or impart to others the goodness he wants to share with them. His generous love underwrites the words of blessing we give in his name.
Prayer is at the core of our life in the Lord, and is central to building a culture of blessing. In prayer, the renewed mind (thoughts of blessing) and the redeemed tongue (words that bless) work in partnership under the Spirit's management. And so we grow as 'habitual blessers'.
The SE Asian country that I live in has one of the highest road fatalities in the world. So when a driver raced past me in a narrow no-passing zone, then recklessly cut into the traffic ahead, I wasn't the only driver to vent. Then, the inner voice. I could shout, blow the horn/hooter and hope he gets caught (or something worse), OR I could 'wish' something better for him. Not excusing his behaviour, I could give him what he DOESN'T deserve: a word that carries grace, a blessing already reserved for him in the heart of Christ.
I realized my prayer licence to bless is way underused. Yes, I believe we're blessed to bless, but that's not quite the same as thinking BLESSING. People can pass us like impersonal blips on a radar, or we can view them with a mind armed to bless.
We're not expected to be spiritual mynah birds, repeating a blessing on every individual that crosses our path. But by thinking BLESSING we become alert to the Spirit's prompts about who and how to bless. And each time we do so, we're streaming the Father's love, and joining his celebration of the Son's death and life that opened the door to his extravagant blessing.