Willing and wanting to be changed. But the Spirit of grace doesn't stop there. He makes it possible for us to welcome the re-shaping of the new us.
Our eternal Home will be amazing – flawless and beautiful. And at last, we'll be perfect reflectors of the glory of Jesus. When we move there, change will be left behind. What God calls perfect can't be improved. But until then, we're a work in progress, an ongoing re-creation miracle.
Complete, yet still under construction. We're being conformed to Christ's likeness…more and more. Each day and every circumstance is the Spirit's arena for changing us. And becoming more like Jesus is our clearest public testimony and our loudest celebration of freedom.
Inner transformation is a Kingdom constant. It's not seasonal or occasional, and it's not automatic. We aren't passive recipients of change, but actively engaged in the miracle. Our heart and will have been freed to welcome the re-shaping of the new us, and to participate in the Spirit's work of ever-increasing glory (2 Cor 3:18).
Holy Spirit has a perfect view of Christ and has the power to form his likeness in us. The size of his celebration over a life made a bit more like Jesus is beyond our imagination. Often the changes are small and barely noticeable to us. But even that whisper of change in us produces thunderous celebration at the Throne.
The Lord draws us into that celebration. Our glad dance isn't because change is always pleasant (it isn't), but because of the guaranteed outcome: likeness to Jesus. In fact, forming the new us to reflect him is the reason he called us to himself (Rom 8:29).
We can endure the changes and dial down our complaints about them, but it says more about our admiration of Christ if we celebrate becoming more like him and welcome the re-shaping.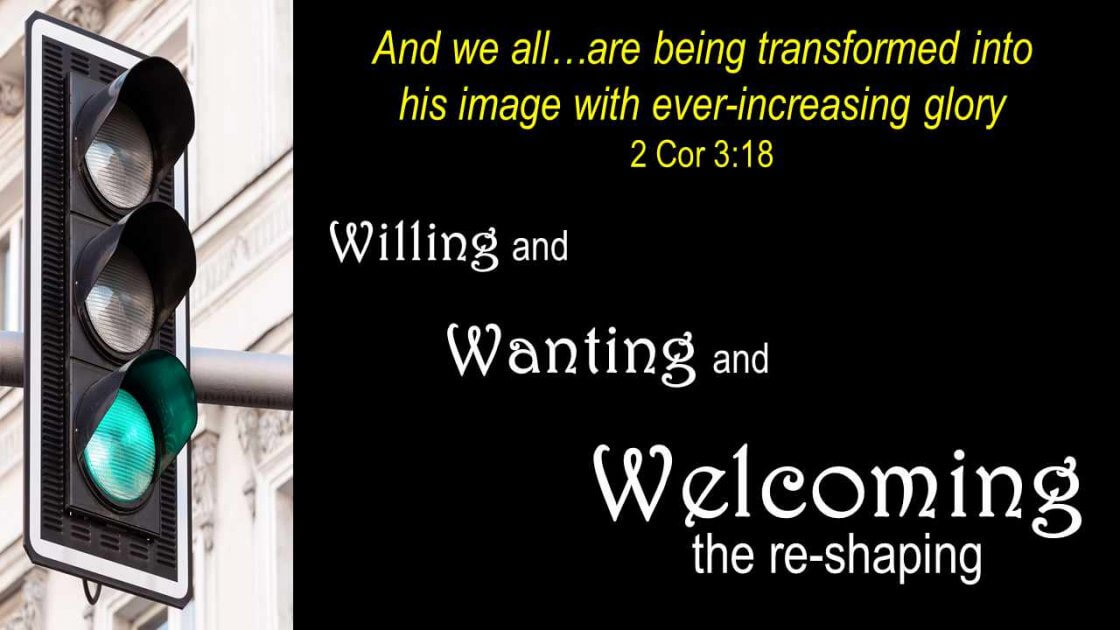 He doesn't force change on us. He shapes clay that is malleable, a life yielded to being on his potter's wheel. He fashions us through his Word, but can use people, pleasant happenings or painful circumstances as his shaping tools. Whichever way he chooses to work, we know we are being formed by a Potter whose love we can trust completely.
Our transformation journey isn't plain sailing. We can be turned off course by a gusting wind of conflict, or by the less overt currents of peer pressure, discouragement or distraction. So, the journey of shaping the new us needs more than a one-time surrender or an occasional re-consecration. We honour Christ by staying on course and giving his Spirit a continual green light to change us.
Prayer helps keep the light switched to green, especially a prayer blend of these three types.
Prayer of ADMIRATION
Seeing the Lord and responding to the view of him is at the heart of inner transformation. Taking time to fix your eyes on Jesus (Heb 12:2) isn't always easy. We juggle work, errands, entertainment and social media in the day's active hours. Trying to add some reflection time is, for some, a ball too many. Yet, at huge cost, we've been given a supernatural vantage point (a raised heart, Col 3:1-3) to admire Christ's Glory as an enjoyable habit. It's important enough to make time for, and to practice melding the seeing and admiring of Christ into our busy activities.
Prayer of DESIRE.
Admiration of the Lord feeds into this type of prayer; words (spoken or sung) that signal our hunger to know the Lord and be more like him. Willingness to be changed means we no longer refuse it. But welcoming change shows that we want it enough to invite it. History records spiritual revivals and awakenings that birthed from prayers of longing to be changed by the Lord.
Prayer of SURRENDER.
Here the praying moves from longing to yielding, from desire for Christ-likeness to relinquishing anything that hinders us in the journey…whatever the cost, discomfort or inconvenience to ourselves.
Through prayer we can keep signalling our YES to the Spirit's work of shaping the new us. And by having these conversations with the Lord, we become more alert to the way the Spirit wants to use scriptures, songs, relationships, life's circumstances and happenings to change us.
Set aside time for focused, 'shaping the new me' prayer.
Read & reflect on

2 Cor 3:17-18

as an anchor scripture.
Tell the Lord how glad you are to be free to welcome the re-shaping of the new you.

Rejoice

, join the Lord in his celebration of the ongoing miracle of your re-creation in Christ.

Signal your YES to the Spirit's work of changing you by using the above three prayer types. Use them in your focused prayer time (prayer 'at set times'), and then aim to blend them into your day's activities (prayer 'at all times').