Trouble happens. It's unavoidable, as long we're imperfect people in a broken world.
But in Christ, trouble doesn't hold the controlling right over our hearts. We are hidden with Christ in God, so trouble can't block our enjoyment of Kingdom life. But an important thing to work on is what to pray when trouble happens.
We have a say in what trouble triggers in us. In an earlier post, Trouble and what it triggers I wrote that, when hemmed in by trouble, God never leaves us without a view of himself. We looked at the example of King David. His response to glimpses of God in his storm affected the way he faced it.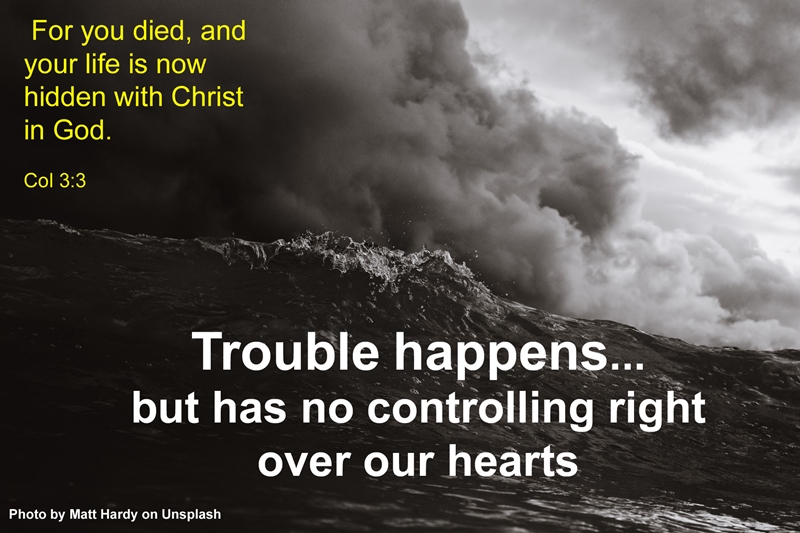 Going back to that song, Psalm 57, see what David prayed in his trouble. It will help answer the question of what to pray in ours.
David had been anointed by Samuel as the future king of Israel. But this song is the prayer of a man in serious trouble, hiding in a cave from King Saul's jealous rage.
God invites us to ASK for help and we honour him by doing so. But we have generally made prayer an asking service, and elevated needs above the awareness of God-present. By making prayer in the likeness of our needs we can miss the encounter the Lord has written into our storm. David shows us a different way.
His asking is brief and to the point: Have mercy. One request, repeated twice. Then the man in trouble moves to the greater part of his prayer in three stages: Lament – Devotion – Admiration. We'll touch on each, and add some 'our turn to do it' space.
LAMENT
I am in the midst of lions; I am forced to dwell among ravenous beasts— men whose teeth are spears and arrows, whose tongues are sharp swords. (4)
David uses visual language (metaphors) to describe how vulnerable and helpless he feels: like a prey circled by hungry, wild animals intent on tearing him apart with their sharp teeth – the spears, arrows and swords from Saul's arsenal.
Our turn: Describe your trouble to the Lord (your own, or the storm of someone you are praying for). He knows more about it than we do, but wants us to share the story with him, and tell him (as David did) how we feel about it. The lament is not a 'blame God' vent; it's an honest unloading of our heart to the One we trust.
It helps to keep threading praise into the lament so that we don't wander away from trust. See how David does that in the next verse: Be exalted, God….. (5).
DEVOTION
My heart, O God, is steadfast, my heart is steadfast; I will sing and make music. Awake, my soul! Awake, harp and lyre! I will awaken the dawn. I will praise you, Lord, among the nations; I will sing of you among the peoples. (7, 8)
David sings of his heart's desire, he declares his determination to worship, even when hemmed in by trouble. He shakes himself awake to praise, and will not allow trouble to stifle his spirit of worship in private or in public.
Our turn: Declare your heart's desire
My heart, O God, is steadfast, my heart is steadfast;
My heart is set. It will not be moved away from this amazing freedom of voicing my awe of you, Lord. No matter what happens, however circumstances might change, this will not alter: my heart is fixed on praising you. It's my greatest desire!
I will sing and make music.
This is my intention. Exalting you is the longing of my heart, and I WILL do this. I WILL bring you my songs of praise and my "wow!" of wonder at your greatness. I WILL pour my offerings of thanks to you and WILL bow in adoration. My heart WILL dance in celebration of your kindness. I WILL make music, and I WILL BE music to you. My longing to do this is shaped by your worthiness. Your Glory – who you are and what you are like – draws me and strengthens my WILL to praise you.
Awake, my soul! Awake, harp and lyre! I will awaken the dawn.
I will respond! I choose to be wide awake to your worthiness. It's how I want to start each day, and the way I want to live all of them.
I will praise you, Lord, among the nations; I will sing of you among the peoples.
Let my desire be known to all! Even when trouble is loudest – and when the problem seems to be getting larger rather than smaller – I will not give up this desire you put into my heart. I want my spirit of praise – in private and in public – to affect others. Let it be known, Lord – here & beyond – that this heart is alive to praise you.
ADMIRATION
For great is your love, reaching to the heavens; your faithfulness reaches to the skies. Be exalted, O God, above the heavens; let your glory be over all the earth. (10, 11)
David takes time to admire God's glory – in particular his great love and his faithfulness. He wants people everywhere, in all nations, to see what he is seeing – the beauty of God!
Our turn: Voice your admiration
If in your trouble (or that of the person you are praying for) you have been drawn to an aspect of the Lord's nature, focus on that now. Otherwise, use the ones below (from David's song); it's impossible to over-admire them!
His great Love: Admire the perfect Lover. David compares God's love to the height of the heavens. Use your own comparisons to express the reach of his love.
His great Faithfulness: Admire the Faithful One; tell him how impressed you are with the size of his faithfulness.
His great Glory: Declare him worthy to be admired in every nation. As an overflow of your admiration, speak over a particular nation or community – call it into the freedom of seeing and responding to his great Glory).
David's prayer wasn't an offering made in a happy, storm-free season; he prayed it while in serious trouble. Do the same. Mention your one-line request, then pray through those three stages for yourself, or for a person/people you know to be hemmed in with trouble.